Positive Signs Education provides Non-Medical Helper (NMH) support workers for college and university students in Greater London who receive a Disabled Student Allowance (DSA).
Positive Signs Education can provide the following NMH Support Workers:
Note Takers
Communication Support Workers
Lip Speakers
Specialist Note Takers for Deaf/Hard of Hearing students (including Electronic Note Takers and Speech to Text Reporter)
Specialist Transcription Service
BSL/English Interpreters
Specialist Support Professionals for Deaf Students.
Our NMH rates for the current academic year can be found below.
Positive Signs Education NMH London Rates (link to a downloadable PDF of the rates template). Please find a copy of our DSA NMH rate card here
Delivering Your NMH Support
We will work with you to tailor your support to meet your needs. We keep in touch with you throughout the academic year and work with you to monitor your NMH usage to make sure you don't exceed your funding allocation.
We are happy to work directly with DSA Students, DSA Assessors and student support teams within colleges and universities.
We want to get it right…
It is important to us at Positive Signs that students feel they can approach us, to discuss their concerns or suggestions, as well as be contented with the services provided. In the event that a student is concerned or wishes to raise an issue about any aspect of Positive Signs service, the student should request for a one to one meeting at a suitable location, facetime or skype meeting with the Director as soon as possible. See the Complaints Policy here
Applying for Disabled Student's Allowance (DSA)
DSA provides funding to give disabled students the extra financial support they need whilst they are studying. It can be used to pay for items such as equipment, travel costs, books and stationery or non-medical help workers to support you in the educational setting.
If you think you are eligible for funding for Disabled Student's Allowances (DSA) and want to find out more or arrange a Study Needs Assessment, please visit the DSA-QAG website.
Work With Us
If you share our passion for education and want to support students in Further and Higher Education to achieve their potential, email us at admin@positivesignslondon.com with your CV and a summary of your relevant skills and experience.
British Sign Language is our Business
Led by Sally Paull, deaf founder and owner of Positive Signs, and also a Registered Interpreter, all our personnel adhere to and practise the philosophy and ethos of Positive Signs – that we are deaf-friendly, equal, collaborative and inclusive.
Note Takers – Manual and Electronic
They provide a real-time, typed or written readable version of what is being said, for example, in lectures, for deaf and hard of hearing students and/or those who cannot take notes for themselves.
Lip Speakers
A hearing person trained to repeat a speaker's message to lipreaders accurately, without using their voice.
Specialist Transcription Service
They convert live or recorded speech into a written or electronic text documents.
Specialist Support Professionals for Deaf Students.
Provide 1-1 study skills tuition to students to help them develop independent learning strategies.
Communication Support Workers
They work with Deaf learners to ensure they are accessing education at the same level as their hearing peers through a range of activities including interpreting, giving more detailed explanations and modifying learning activities to ensure they are suitable and accessible.
Specialist Note Takers for Deaf/Hard of Hearing students
They listen to what is being said and input it, word for word, using an electronic shorthand keyboard, to a computer, which converts the information to properly spelled words which can then be read by deaf or hard-of-hearing people.
BSL Interpreters
Specialist BSL/English Interpreters who are either trainee or fully-qualified and registered with the regulatory body National Register for Communication Professionals working with Deaf People (NRCPD). These are suitable for use in formal lectures and presentations as well as smaller group settings and 1-1 meetings.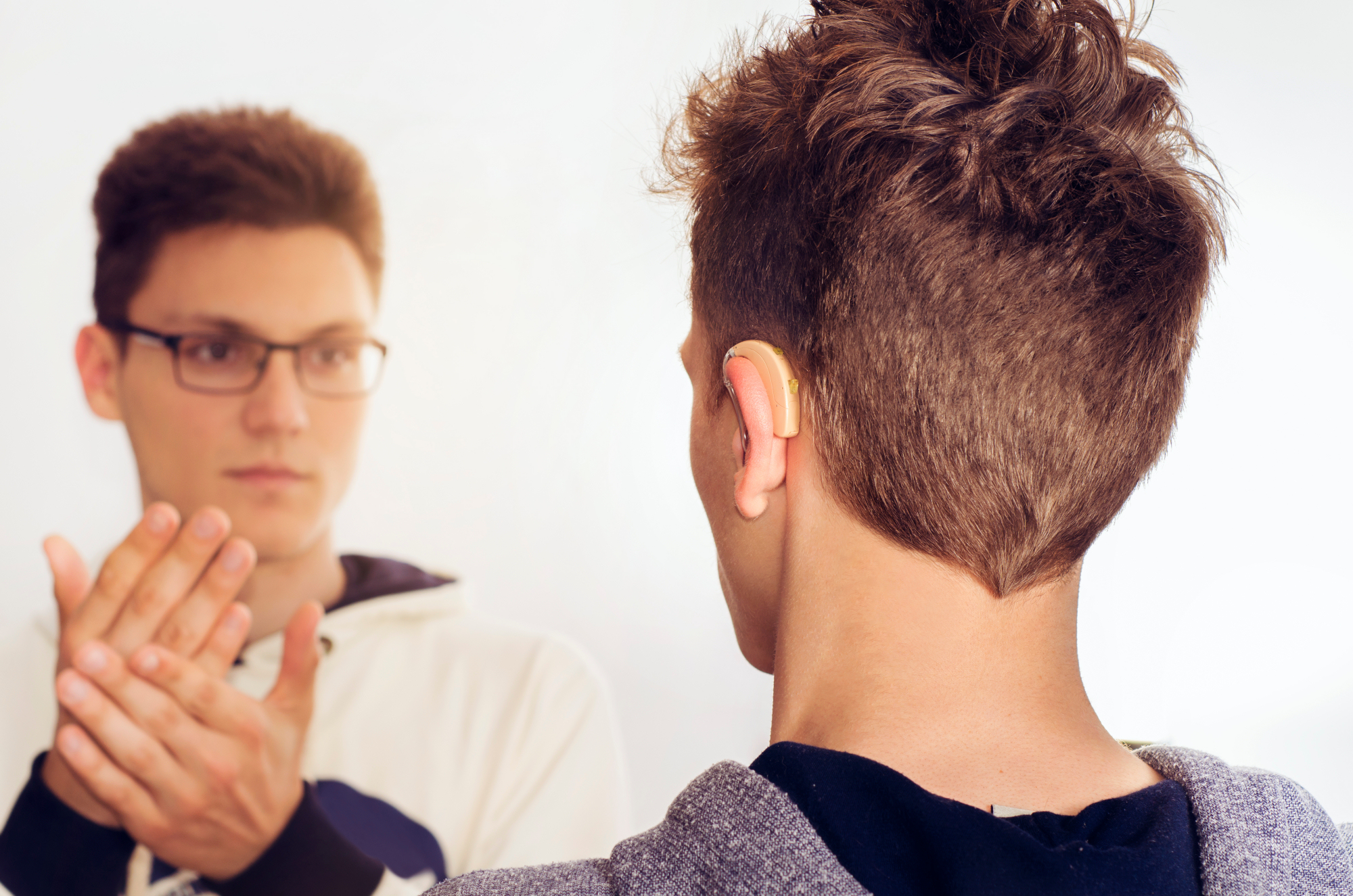 WHY CHOOSE US?
Communication with deaf people is our business.
Positive Signs provide a range of services for companies, organisations, employers and individuals who need communication support services, interpreting services, sign language training and advice on employment including Access to Work. We take the time to talk with you in order to deliver high quality services that meet your needs. Contact us today.
Let's Start A CONVERSATION

Say Hello!